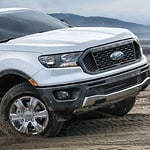 The Ford Ranger is the most popular pickup truck in Australia. It's known for its reliability, versatility, and ease of use. The vehicle has an excellent design that features a high-quality interior with plenty of storage space to keep your tools safe. There are two cab sizes available: Super Cab and King Cab. These trucks have a small turning radius which makes it easy to maneuver around tight corners or obstacles on the road.
Ford Ranger Design Features
Seating Capacity: The first thing to consider is how many people you need to seat.