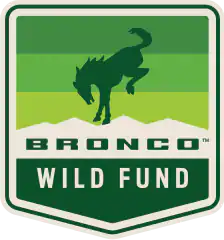 WELCOME TO THE BRONCO WILD FUND
Inspired by the epic return of the legendary Ford Bronco brand, the Bronco Wild Fund is a mission with a deep respect for our public lands - and an unbridled commitment to helping those lands continue to be a world of wonder for all.Toward that purpose, the Bronco Wild Fund is teaming up with like-minded collaborators: agencies, organizations and everyday heroes devoted to keeping the great outdoors great. We're here to help, with grants, scholarships, contributions and an extensive dealer network. In fact, a portion of the profits from every Bronco sold goes directly to Bronco Wild Fund collaborator initiatives. Because it's about more than just building Bronco SUVs. It's about building a legacy of access, preservation and stewardship from the ground up.At the Bronco Wild Fund, we want to connect people to the outdoors, responsibly*.
*Ford is committed to the preservation of the environment and treading lightly.